Medtem ko so se danes v Pekingu slavnostno začele 23. zimske olimpijske igre, na tem mestu srečno naši slovenski odpravi, pa z odštevanjem nadaljujemo tudi mi. Točno 28 dni nas loči do začetka zimskih paralimpijskih iger, na jih bo barve Slovenije zastopal paraalpski smučar 21-letni Jernej Slivnik, ki bo tudi tokrat zastavonoša.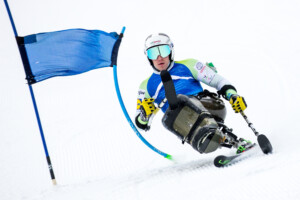 Paralimpijske igre, letošnje zimske bodo že 13. po vrsti, so vrhunec za vsakega parašportnika. Tudi Jernej Slivnik ni izjema. Danes je na ravni, da se lahko spogleduje tudi z mesti, kjer bi mešal štrene najboljšim. A pot do tja je bila dolga, zahtevna, težka. To najbolj ve Jernej sam. Da je postal konkurenčen najboljšim, je bilo (dokončno in vnovič) jasno na januarskem svetovnem prvenstvu na Norveškem, kjer je bil 4. v slalomu in 7. veleslalomu.
Jernejeva osredotočenost
Že pred odhodom na svetovno prvenstvo ni skrival ambicij. Na novinarski konferenci, ko je Zveza za šport invalidov Slovenije-Slovenski paralimpijski komite obeležila 50 dni do Pekinga, je bil Slivnikov fokus na svetovnem prvenstvu, tja v Peking, kjer se paralimpijske igre začnejo 4. marca, je v slogu rutinerja le bežno pogledoval.
»Paralimpijske igre imajo velik pomen. Tam smo vsi najboljši na kupu, organizacija je vrhunska in to je res krona kron,« je povedal, pa misli spet usmeril v svetovno prvenstvo. Tako je to pri Jerneju. Če se po svetovnem prvenstvu paralimpijske igre poznajo, so pred tem fantom že letos velike stvari.
»Vedeli smo, da lahko Jernej tako smuča ob določenih pogojih. Tokrat se je izkazal tudi na trdi podlagi, kjer je imel včasih nekaj bojazni. Na tem prvenstvu je pridobil tudi na samozavesti. V veleslalomu je v drugo smučal z malce zavore, a je ravno zato naredil napako. V smučanju je tako, da moraš ves čas napadati, tudi za ceno tega, da narediš napako. V slalomu se je po 7. mestu v veleslalomu sprostil malce bolj in dobro opravil s progo,«  se je Slivnikov trener Roman Podlipnik ozrl na odpeljano v Lillehammerju. Ob Romanu Podlipniku velja na tem mestu omeniti še dr. Mitjo Bračiča, ki je pred to sezono poskrbel za Slivnikovo fizično pripravo, za smučo našega paralimpijca in trenerja Podlipnika pa skrbi serviser Slavo Mulej, smuči pa prispeva Elan.
Danes sta Jernej in Roman opravila trening, v ponedeljek, 7.2., sta že v Švici, kjer bo Slivnik nastopal na tekmah evropskega pokala, tudi v superveleslalomu. Čeprav je bolj ali manj jasno, da bo v Pekingu na paralimpijskih štartal v obeh tehničnih panogah – veleslalomu in slalomu, torej 10.3. in 12.3.
Vodja odprave bo Roman Jakič.
Foto: Sportida