V Pekingu se približuje prvi nastop našega parasmučarja Jerneja Slivnika. Jutri, v četrtek zjutraj, bo na štartu veleslaloma, ki se prične ob 1.30. Ob 5.30 je na sporedu še druga vožnja, ki si jo boste lahko ogledali tudi v neposrednem prenosu na TV Slovenija 2, pred njo bo posnetek prvega tega.
Tekmo bo na TV Slovenija 2 komentiral Leon Andrejka. Slivnik bo štartal s številko 80.
Slivnika bomo lahko spremljali tudi v nedeljo, 13.3., ko bo štartal na slalolomu.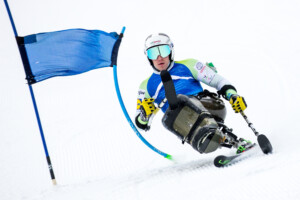 »Po mnogih letih smo dočakali, da lahko tudi parašportnike na TV Slovenija spremljamo na največjem športnem tekmovanju, kar  paralimpijske igre zagotovo so. Televizija Slovenija bo z direktnim prenosom prvič prenašala obe 2. vožnji parasmučarja na monoskuju Jerneja Slivnika. Poleg prenosa otvoritve iger bomo lahko neposredno preko malih ekranov navijali za Jerneja. To je pravi korak k enakovredni obravnavi parašporta na javni televiziji. Želimo si, da postane to stalnica vključujoč tudi prenos večjih tekmovanj, kot so evropska in svetovna prvenstva. Vsem, ki so pripomogli, da je parašport pogosteje na malih ekranih in s tem  pridobiva širšo prepoznavnost se Zveza ŠIS – SPK iskreno zahvaljuje,« je ob tem dogodku povedal Damijan Lazar, predsednik Zveze za šport invalidov Slovenije-Slovenskega paralimpijskega komiteja.
Ogled tekem bo mogoč na TV Slovenija, na kanalih YouTube pa žal ne zavoljo klavzul in pogojev ob nakupu televizijskih pravic.